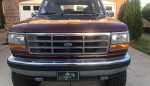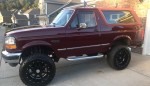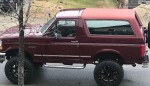 Details
$29,995
Dealer Location: Choose a dealer location:
Year Built: 1993
Engine Size: Choose an engine sizeL
Trans: Automatic
Fuel Type: Gas
Owners: 2
Ext color: Cranberry
Int color: Tan
More info coming soon.
Pictures are before complete paint job and matching top. New headlights,New grill, new side markers, new side marker Bezels, new tail lights, New Tailgate, Tailgate seals & tension straps, new side mirrors.new main computer.new door handles, new windshield, new door seals.
1993 Ford Bronco XLT Cranberry over Tan.
Lift kit  sidebars
Original window sticker. Loan Agreement, Dealer Jacket, Dealer owners card,Owner manual, Customer diagnostic evaluation booklet,Maintain your vehicle booklet.
This truck was ordered for a women in GA who then moved to TN. Truck was never driven hard.
Contact us regarding this listing
Back to Top